The former Nairobi County Governor Mike Sonko has been sending coded messages regarding the killing spree of killer Corporal Caroline Kangogo.
Pleading with the police not to kill her but to give her space to explain herself, Sonko has pointed out in some of his messages on social media that Caroline killed those two men and is hunting down others on her list since they infected her with a disease.
In his coded message, the flashy politician noted that one of the men Caroline was in a relationship with infected her.
Unfortunately, she can't tell who infected her and that's why she is putting all of them down.
"Senior Counsel John Khaminwa who is also my lawyer to seek for bail pending arrest for Carolyn Kangongo. This lady cop should not be castigated as a criminal at all. At times some men ( Not all) are the reason why women react out of conduct due to relationship stress. Ukijua hali yako wacha kusambazia innocent women," said Mike Sonko.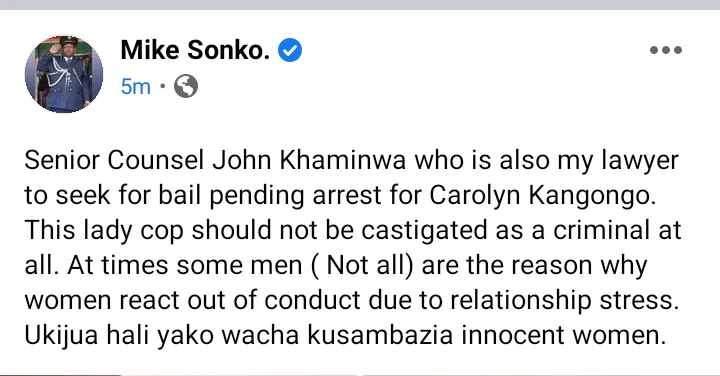 Yesterday, Sonko said that one of her friends gave her a disease.
"Let me do my blogging job na udakuu! Ndio Caroline Kagongo auwe machali zake wawili na sasa anataka kuuwa pia doctor wake, lazima kati ya hao machali zake kuna mmoja alimpea kitu mbaya na hakujua ninani. Tafakarini hao," said Mike Sonko.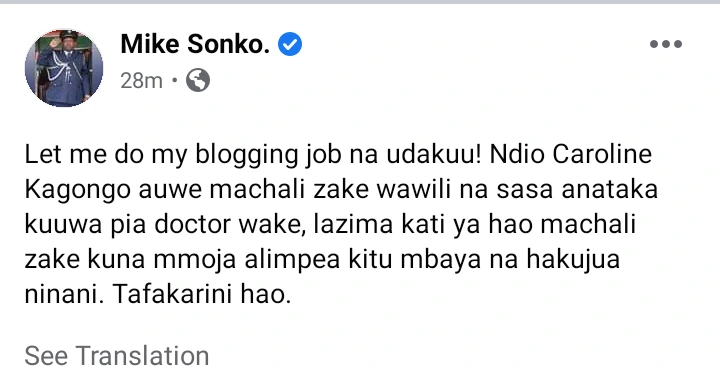 Caroline is on the run with her whereabouts still unknown.
She is wanted for killing a police officer in Nakuru and a businessman in Kimbo Market.

For marriage, family, love, job/promotion. Goodluck in your business/lottery, court cases, diseases and other Spells kindly call Kiwanga Doctors on +254 769404965; or CLICK HERE>>>> https://www.kiwangadoctors.com.
<