Sad news reaching our newsdesk have confirmed that President Jovenel Moise has been murdered. The Haitian President was killed on Wednesday, July 7, 2021 after an attack on his private residence.
The sad news was confirmed by the Interim Prime Minister Claude Joseph. The President's residence at the Port-au-Prince home according to the PM was stormed by a number of hitmen armed to the core at 0100 hrs and launched the attack.
During the gun fire, the president was fatally injured and died moments later. The first lady was injured and is currently in intensive care.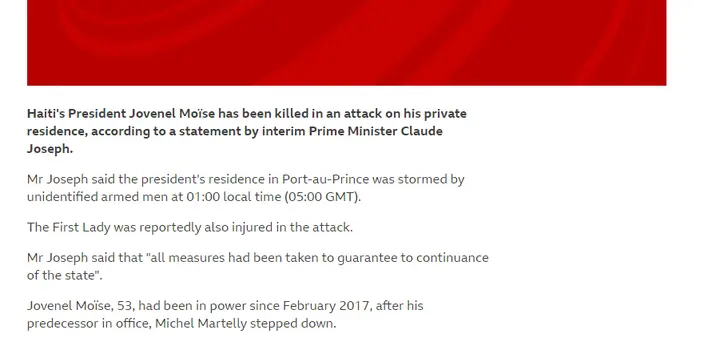 The president had only been in power for 4 years after he took over government following the stepping down of his predecessor in office Michael Martelly.
His regime was rocked by various accusations of corruption and antigovernment chaos. The interim Prime minister has urged citizens of Haiti to remain calm as the functions of the government will continue as usual.

The Haitian military has been given the mandate to hunt down the killers.
<