ODM leader Raila Odinga has stated that he is ready to retire from politics in 2022 if the country is not ready to talk about corruption.
Speaking on Thursday morning with Radio Citizen, the former prime minister revealed that he has been receiving different calls and messages following his weekend remarks, that his administration would jail any leader who has been involved in corruption cases in 2022.
He disclosed that almost everyone who communicated with him argued that his sentiments would be a stumbling block to ascend to power, on allegations that most of those who will be affected are bigwigs.
Raila argued that it is better for him to go home rather than leading a country where discussions revolving round corruption cases are thrown off the table, and such conversations get dimmed.
He added that the country has been lagging behind due to increased graft cases from the ruling administration, hitting on Deputy President William Ruto for donating funds to harambees, saccos and churches yet his source of money is known.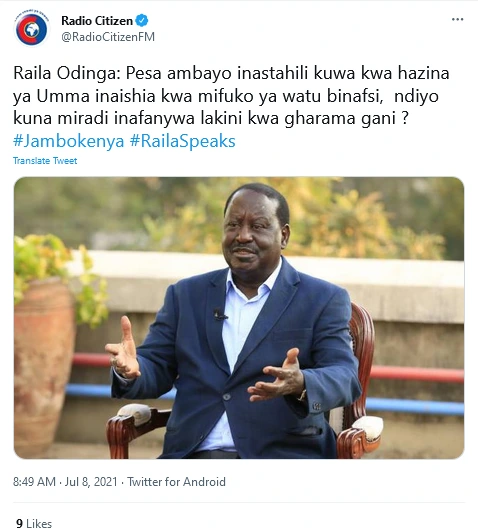 For marriage, family, love, job/promotion. Goodluck in your business/lottery, court cases, diseases and other Spells kindly call Kiwanga Doctors on +254 769404965; or CLICK HERE>>>> https://www.kiwangadoctors.com.
<