Absa Bank is still grappling with mystery of how a dead man could write over 20 cheques totalling Sh 18.5 Million. The deceased was known as Dr Muchiri who ran a ear, nose and throat clinic in Hurlinigham. Apart from his private practice he also worked for Getrude Hospital and occasionally lectured for Jomo Kenyatta University of Agriculture and Technology.
The deceased died on 2017 and there was a no activity on his bank accounts until 2019. This is when he seemed to come back into life and issue a total of 20 cheques between April and May 2019 on a joint account he held with his dear wife.
Seventeen of the cheques were cleared by the bank while three were flagged suspicious. The only reason the bank was able to detect the ongoing theft was because the widow applied for a new chequebook since she was now the sole account holder. Absa made investigations and found that fraudsters had accessed the deceased bank accounts with the help of senior bank employees. The two senior employees Mr Douglas Wanjohi and Mr Joseph Wanyeji have already been fired and High Court said that they should not get any severance pay.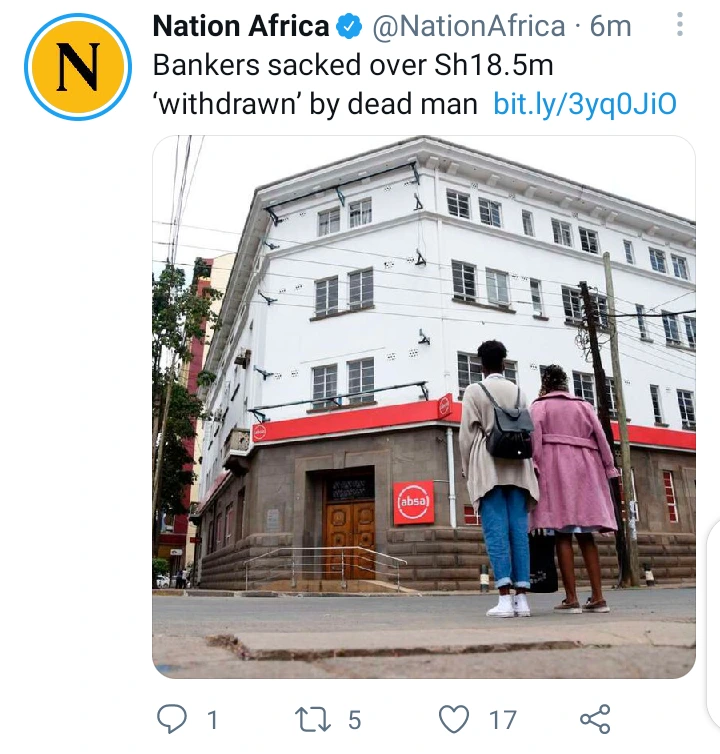 <