Barely weeks after Mukhisa Kituyi was accused by a woman who claims he allegedly assaulted her at a five-star hotel in Mombasa, the 2022 Presidential aspirant has found himself yet again in hot soup after an unidentified woman today leaked his nud3s.
In the viral video that has taken social media by a storm, Kitui is showcased slumped on a couch in an undisclosed hotel room, probably drunk and stack nak3d.
The video which was first shared by blogger Cyprian Nyakundi on one of his social media platforms, immediately sparked mixed reactions from netizens who could not believe their eyes.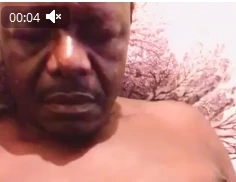 Some of his sympathizers feel the move by the woman to share the said video is politically motivated by the former Secretary-General of the United Nations Conference on Trade and Development, UNCTAD's enemies.
Other commenters however, shamed the politician for indulging in extramarital affairs with young women when he was supposed to be serving as an example especially at the time when he has shown interests of succeeding incumbent president Uhuru Kenyatta.
On May 22, Diana Opemi Lutta claimed Kituyi beat her up after allegedly refusing to yield to his demands.
She proceeded to file a case against him at Nyali police station under OB number 10/22/05/2021.
The 'slay queen' alleged that the politician went violent pushed her from the bed and continuously kicked her while on the floor leading to her sustaining injuries on her left knee.
"Assault report to the station by one Diana Opemi Lutta who had submitted a report on May 22, 2021.
She has been assaulted by a person known to her within Tamarind village, namely Mukhisa Kituyi whom she claims to be her boyfriend," read the statement in part.
Reports indicate that the former trade minister was in the Coast region last month in a bid to popularize his Presidential campaign ahead of the 2022 General elections.
Click This Link To Watch Mukhisa Kituyi Leaked Nude Video >>>LINK<<<
<